The History Behind Townley Services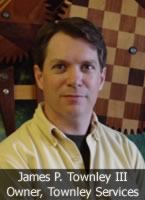 In 1885, James Philander Townley founded Townley Hardware Company, establishing a progressive family heritage that passed through three generations in Kansas City. A hundred years later, Townley Hardware was purchased by a larger company. The sons of James P Townley II, being left without a family business, formed Townley Restoration Company Inc. in 1982. Townley Restoration grew to become one of Kansas City's premier remodeling contractors, winning numerous top awards from the National Association of the Remodeling Industry (NARI), and The Home Builders Association Remodelers Council. Allen W. Townley, the company's president, became the president of NARI for 2 years, a member of the Home Builders Association Remodelers Council, a member of the Better Business Bureau, a member of the Chamber of Commerce, and a Certified Graduate Remodeler. Allen, besides being great at public relations, ran the sales and estimating department. James P Townley III, a graduate from the Kansas City Art Institute sculpture department, along with a crew of up to 25 people, would then produce whatever Allen had sold. In 1986 Townley Restoration Co. bought a building at 2849 Southwest Boulevard, a decision that would later prove to be fatal to the company. The first of two Kansas City floods came in September of that same year, and the second Kansas City's so called 20 year flood came only 2 years later. The combination left the Townley's unable to keep the doors open, and Townley Restoration Co. was closed in 1992. James P Townley III, continued to do projects for select clientele, concentrating on one or two jobs at a time. "In this way," James said, "we are able to give our customers the highest of quality for an economical price and a low amount of stress." Finally in January of 2007, James incorporated, and formed Townley Services.


Townley Services, Kansas City Remodeling and more
is not a general contractor per se, but would prefer to help you save money on your project by assisting you in being your own general contractor. All general contracting companies get bids on all the various parts of a project and then add a healthy markup to cover their overhead and profit. We have a slightly different philosophy. Hire us as a remodeling consultant and / or project manager and we will help you with project ideas and subcontractor selection. Acting as your own general contractor, you would save money on all subs that you hire directly and on any materials that you supplied. We would then act as one of the subs, performing only those tasks that require a greater level of expertise. With this scenario, you get the highest level of quality for the lowest possible price.